Skip to Content
Veneers for Buckeye, AZ Patients
Composite & Porcelain Veneers
Patients wanting to improve the look of their smile and protect their teeth from damage often choose veneers. Mountain Shadows Family Dental offers composite and porcelain veneers to our Buckeye, AZ patients. Veneers easily hide stains, chips, gaps, and minor misalignments. Your teeth will be shiny and look brand new with veneers. Our skilled dental team custom-designs veneers for your teeth, matching the color and shape. You'll have natural-looking, long-lasting results. Our experienced dental team can help you decide the best type of veneer and guide you through the process. Contact us today for a consultation!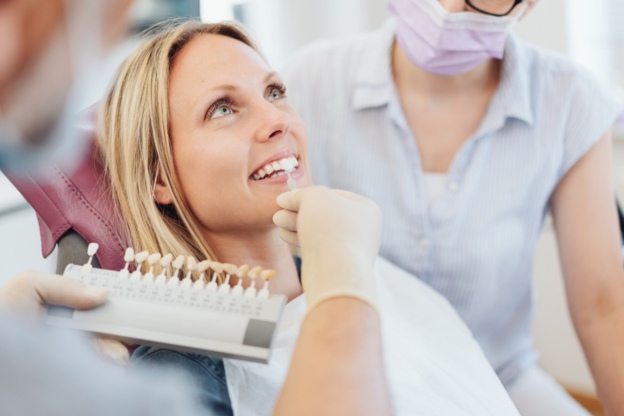 Benefits of Veneers
Veneers are a popular and common cosmetic dental service because they address many dental concerns, including:
Cracks or chips
Worn teeth
Gaps between teeth
Damaged teeth
Stains on teeth
Uneven teeth
Broken or damaged teeth
Veneers vs. Dental Crowns
Veneers and crowns both cover dental issues, but there are a few significant differences between the two dental services. A veneer is a thin restoration designed to custom fit the front and sides of a tooth. Its main goal is to improve the look of the tooth. A dental crown does enhance the tooth's appearance, but it also boosts the strength of the entire tooth. A crown covers the whole tooth, protecting against structural damage. We will examine the condition of your tooth before deciding as to whether you would benefit more from a veneer or dental crown.
Veneer Placement Procedure
Veneer placement is an easy, pain-free procedure. The steps include:
Prepare Tooth
We'll remove a small amount of enamel from the front and sides of your tooth to make room for the veneers.
Impression
Dr. Garrett will make a mold of your tooth and match a veneer shade.
Custom Fitting
Your tooth is sent to our lab, where a customized veneer is made. You can wear a temporary veneer in the meantime.
Placement
Dr. Garrett places the customized veneer on your tooth to check the shape and fit. After adjustments, the veneer is bonded to your tooth.
Porcelain Veneers
Porcelain veneers are custom-fit covers that cover the front surface of your tooth. They are made from thin porcelain for a durable and stain-resistant construction. Porcelain veneers are the perfect choice when you want a more permanent repair with a natural look.
Proper Care For Veneers
With proper care, veneers should last for decades. Proper care includes:
Brushing with a soft toothbrush
Floss regularly
Don't bite down on hard food
Stay away from smoking
Don't clench or grind your teeth
Avoid foods that stain teeth
Contact Mountain Shadows Family Dental
We want you to be excited about your smile. Mountain Shadows Family Dental offers veneers with a natural look and feel to boost your smile. Dr. Matthew Garrett and our team specialize in superb cosmetic dentistry to meet your dental needs. Whether you're interested in veneers or regular cleanings, we're here for you. Contact us today for a consultation towards the smile of your dreams.
Bringing the Care of Our Family to Yours!