Skip to Content
Mountain Shadows Family Dental's Dental Hygiene Basics
Importance Of Dental Hygiene in Buckeye, AZ
 We believe dental hygiene sets the stage for positive dental healthcare throughout life. At Mountain Shadows Family Dental in Buckeye, AZ we want you to take the dental hygiene education you learn at our office and apply it at home. Our ultimate goal is that your healthy smile lasts as long as possible. Your dental hygiene away from our office plays an active role in achieving maximum oral health. When you correctly follow our dental advice, you can help control bacteria and plaque that often cause dental disease. From visiting us every six months for a routine cleaning to using the tips we teach you at home, you can form dental hygiene habits that last a lifetime for healthy, happy teeth.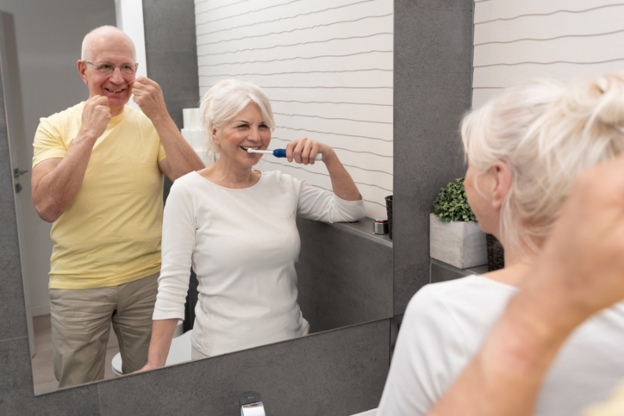 Benefits Of Good Dental Hygiene
Practicing positive dental hygiene leads to:
Less plaque during routine dental cleanings
Less dental procedures to address gum disease or tooth decay
Feeling healthier
Better smelling breath
Feeling confident in your smile
Teeth Cleaning Dental Hygiene
It's important to brush your teeth twice a day with an American Dental Association (ADA)-approved soft bristle toothbrush and toothpaste. You should brush at a 45-degree angle in small circles. It's essential not to miss any of the surfaces of your teeth and never forget your tongue. An electric toothbrush is also a great choice.
Dental Floss Basics
Flossing teeth after eating is critical to keep plaque from building up in your mouth. Use about 12 to 16 inches of floss each time in a sawing motion between teeth. Make sure to get underneath the gum line.
Going Beyond Brushing Teeth and Flossing
Dental hygiene is about more than brushing and flossing your teeth. There are a few other basics to keep in mind, including:
Cleaning your tongue
Use a tongue cleaner to prevent bacterial and fungi buildup and bad breath.
Cleaning between gums and teeth
An interdental cleaner is a tiny brush that effectively cleans between your gums and teeth, adding a practical addition to floss.
Using water jets
Oral irrigators are a great way to get rid of food particles and bacteria underneath the gum line.
Children's Dental Hygiene
Oral hygiene is important for children as early dental education leads them down a positive oral healthcare path. You can help children with dental hygiene by:
Wiping down new teeth with a moist towel to remove plaque.
Use non-fluoride toothpaste until a child can spit out the toothpaste.
Use a small amount of fluoridated toothpaste once they can spit it out.
Explain the importance of brushing and flossing.
Help reach the toughest spots if they cannot adequately brush their teeth.
Dental Hygiene and Diagnostics
Digital X-rays and intra-oral imaging are important pieces of dental hygiene. Many dental problems are found from X-rays and intra-oral images. Our imaging technology looks at the exact shape and position of each tooth in detail. We're able to identify many dental problems before they become bigger issues with digital diagnostics.
Mountain Family Dental Promotes Dental Hygiene
We want our patients to leave our office armed with positive dental hygiene education. We want you to know the best tools and practices to continue to boost your oral health at home. Dental hygiene is one of the most essential parts of our health. Our friendly staff is always here to answer your questions about dental hygiene. Contact us for a dental visit today! We'll clean your teeth and ensure you don't have any additional oral healthcare issues.
Bringing the Care of Our Family to Yours!