Skip to Content
Denture Solutions in Buckeye, AZ
Dentures are an age-old solution for effectively replacing lost or removed natural teeth. At Mountain Shadows Family Dental, we have spent a decade helping patients all over Buckeye, AZ find the perfect denture solutions for their unique lifestyle needs. With Dentures, you can get back to laughing, eating, talking, and smiling without worry. Learn more about the denture types we offer, and which will best suit you.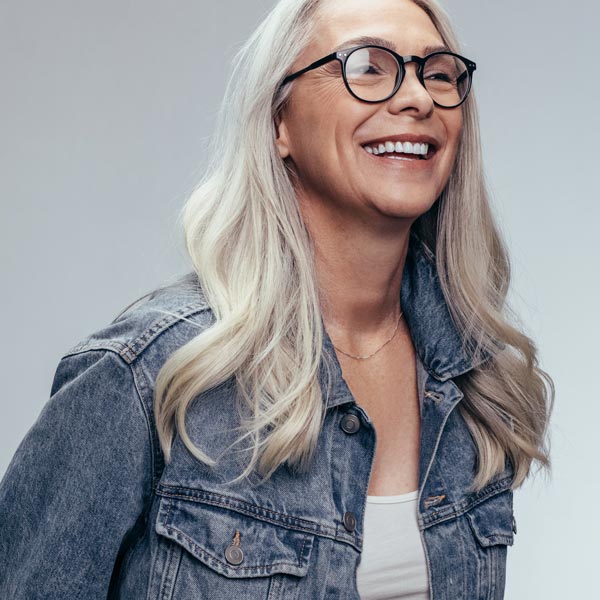 Denture Exams & Maintenance
Dr. Garrett can perform exams to ensure your denture is functioning optimally. We will discuss your medical and dental history and perform an oral examination to check the condition of your gums and detect any oral abnormalities. This way, we can prevent any lesions from forming and address any bone or tissue changes that may make your dentures ill-fitting. Avoid bite problems, speech impediments, and tissue irritations by scheduling an appointment with us today!
Our Denture Offerings
Dentures have evolved substantially over the past few decades, and we want to make sure we can provide our patients with all the denture options available. The different denture types we have available include:
Full Dentures
As the name implies, full dentures are intended to replace all your natural teeth. They will be fitted to your top or bottom gum line and held in place by suction or adhesive and are typically removable for easy cleaning.
Partial Dentures
Partial dentures are a fantastic solution for those times when a patient needs tooth replacement, but the surrounding teeth are not healthy enough to support a bridge. Partial dentures are fitted to the gumline and fasten to any remaining natural teeth within the mouth to keep them from falling out. They can be removed for cleaning and sleeping.
Immediate Dentures
Immediate dentures may be the best solution when a complete extraction is unavoidable. Immediate dentures are created before the teeth are removed, making them available immediately following a full extraction. Since full teeth removal will cause changes in the mouth as swelling in the gums and jaw lessen throughout the healing process, immediate dentures will commonly need to be refitted or replaced with permanent dentures.
Implant-Retained Dentures
These are dentures that are held in the mouth by dental implants, keeping dentures in place for more carefree wear. Implant-retained dentures are comprised of the implant itself, a metal post that acts as a natural tooth's root, and a custom denture that will be made to match the look of your natural teeth. If you happen to be missing all your natural teeth, Implant retained dentures can give you a secure, natural-looking option that is more comfortable and convenient than traditional dentures.
Professional Denture Relines
If you've recently received dentures and you've noticed they don't fit as snug as they once did, don't worry! This a completely normal part of the dentures healing process. As time goes on, your gum tissues will change, and the fit of the denture will become looser and more prone to movement inside your mouth. We recommend our patients with dentures have a hard reline done as needed to maintain maximum contact between the dentures and your mouth.
We also perform soft relines for those patients who need a little extra support between the hard base of your dentures and gums. Soft liners are made from a pliable material that provides comfort and relief for those individuals who are left with receded or flattened gum tissue because of the stress of dentures. We even perform temporary relines for those needing any inflammation to subside before visiting us for a hard reline. No matter your needs, Mountain Shadows Family Dental can accommodate!
Bringing the Care of Our Family to Yours!