Skip to Content
Root Canal Treatment in Buckeye, AZ
Root Canals at Mountain Shadows Family Dental
The idea of a root canal can stop some patients in their tracks. The truth is that it is one of the most common dental procedures we perform here at Mountain Shadows Family Dental. Our Buckeye, AZ patients don't need to fear a root canal. It's a relatively simple treatment that can prevent the need for dental bridges of implants and even save your natural teeth in the future. A root canal is needed when the center of your tooth, called the pulp, is exposed to bacteria through cracks, decay, and trauma. The tooth and gums often become damaged and painfully inflamed. Our dental team and Dr. Garrett will remove the compromised nerve with a root canal to save the tooth. Our highly trained staff ensures your root canal treatment will be as painless and easy as possible. Contact us today.
Symptoms You Need A Root Canal
One of the most common signs and symptoms you may need a root canal include prolonged sensitivity to hot or cold food or drinks. Other symptoms include swelling of the gums, pain in the gums, and teeth changing color. If you experience pain when chewing or throbbing of your teeth, you may need a root canal. It's important to visit us for regular check-ups to get in front of the problem before it becomes a more significant issue.
Why Does the Pulp Need to Be Removed?
A root canal is usually caused by an infection in the tooth pulp. This pulp contains nerves, blood vessels, and other soft tissues. When bacteria cannot penetrate the tooth's hard outer layers, it gets into the tooth pulp. We remove the pulp so the infected tooth does not lead to an infection in the gum or bones. Once we remove the infected pulp and clean the tooth out, your risk for the infection to spread is eliminated.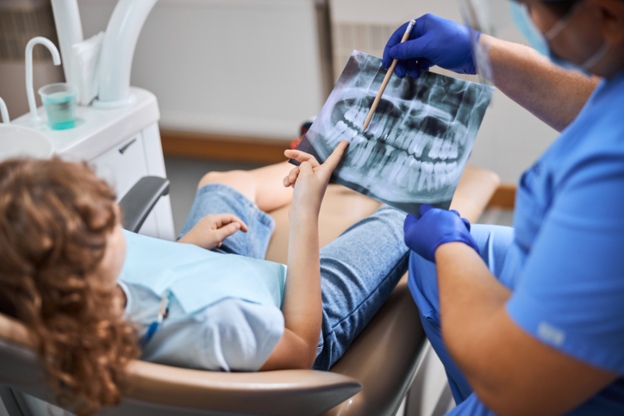 Root Canal Procedure
The root canal process is a minimally invasive surgery. We'll keep you comfortable throughout the treatment. The steps are:
We'll X-ray your tooth to get a precise layout for your root canal.
Garrett will numb your tooth to ensure you won't feel anything during the procedure.
The nerve of the tooth is removed, and the canal is cleaned out.
Water or sodium hypochlorite (dilute bleach) gets rinsed through the hole to remove any infection.
Garrett will seal the tooth with composite material to prevent any contamination.
Once the root canal is complete, we will fill the access point with a permanent filling or a dental crown.
What to Expect After a Root Canal Procedure
After a root canal procedure, you'll be able to do your normal activities. Your tooth might feel a little sensitive for a few days. You shouldn't have any pain or sensitivity, but you may experience discomfort in the area. Contact us immediately if you experience extreme pain or sensitivity.
Schedule A Root Canal Appointment Today
We understand your anxiety about a root canal. Our caring team ensures a comfortable, successful root canal process. We'll guide you through each step of the procedure. Our team of dental experts is here for your every need. Contact us today!
Bringing the Care of Our Family to Yours!